Dr. Griffin, DVM
Veterinarian
Dr. Griffin attended Auburn University 1978-1984 and graduated with his BS and DVM. Dr. Griffin started working at Wilhelm Veterinary Clinic in Sarasota Florida. Eventually, he traveled to Locust and purchased Albemarle Animal Clinic, later opening West Stanly Animal Clinic. He is happily married to Dr. Kay Griffin with two sons, Richard and Scott.
Dr. Griffin has four dogs: Daisy, Mia, Angus, and Bonnie. He has two cats: Keke and Tubby, along with three horses and chickens. He enjoys his time at Crossfit, cooking on his big green egg, reading, and playing golf in his free time.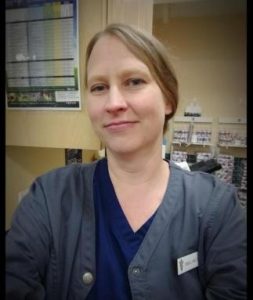 Dr. Lane, DVM
Veterinarian
Dr. Lane was born in Johnston County and moved to Stanly county in 2015. She graduated from North Carolina State University of Veterinary Medicine in 2006 and joined West Stanly Animal Clinic in August of 2014 and enjoys working with all of her patients.
Dr. Lane states that her Kindergarten teacher asked her class "what do you want to be when you grow up?" and she answered "a veterinarian or a horse trainer." She has always loved science and has been curious about how things worked and helping animals, so it just seemed like the perfect fit.
Her favorite part of her job is watching a sick animal recover and go back to being the loved member of their family that they were before. She also enjoys educating people on how to make the best decisions for their pets so that they can live a long happy life!
Dr. Lane lives with her husband in Albemarle and has a grown daughter and shares two young stepsons with her husband. She and her family have a Yorkie-mix Bonnie and a Siamese-mix named Betsy. In her spare time, she loves riding motorcycles, shooting and collecting guns, and listening to live music – preferably local bands.
Dr. Osborn, DVM
Veterinarian
Dr. Osborn is originally from Stanly County and graduated from North Stanly High School. She attended Gardner Webb University receiving a BS in Biology. She gained much experience as a veterinary Assistant after college and later attended NC State's College of Veterinary Medicine graduating with her DVM in 2008.
Dr. Osborn joined our veterinary team in August 2016. She enjoys just about all aspects of veterinary medicine including preventive medicine and surgery.
Dr. Osborn has a wonderful family with her husband Steven, three boys (Bryce, Blake, and Isaac), and two dogs (Riley, and Sierra). In her free time, she enjoys spending time with her family and friends.
Shonda Calloway
Veterinary Assistant
Shonda was born and raised in Stanly County and a graduate of North Stanly High School. She has been a valued member of our team since March of 1998. Shonda helps maintain order within Albemarle Animal clinic as a surgical and room Assistant and practice manager of sorts.
Her love of animals is why she chose to do what she does and states that her favorite of the job are dental and puppies!
Shonda is married to her husband Robert and has one daughter named Kinsley. She has four dogs and one cat and enjoys spending time at the lake or going to the beach with her friends. In her spare time she can be found spending time at the lake and the beach with family and friends.
Jamie Bunting
Veterinary Assistant
Jamie is from Albemarle, NC and a graduate of North Stanly High School. She joined Albemarle Animal Clinic in September of 2007 and has become a valuable hard-working Assistant.
Jamie chose this profession because of her love of working with animals and says her favorite part of coming to work every day is her work as a Veterinary Assistant.
Jamie is married to her husband Landon and they have a daughter together. They also have quite a few animals on their farm including: 6 dogs, 2 cats, 7 goats, 3 horses, and cattle. In her free time, Jamie enjoys hunting, cooking, and spending time outside.
Freddie Avila
Veterinary Assistant
Freddie is the twin brother of Eric (don't worry some of us have a hard time telling them apart also). He also attended West Stanly High School and Stanly Community College. He joined Albemarle Animal Clinic in 2006 with his brother and is also a valued Assistant.
Freddie has two dogs and enjoys photography, movies, attending car shows, and playing soccer in his free time.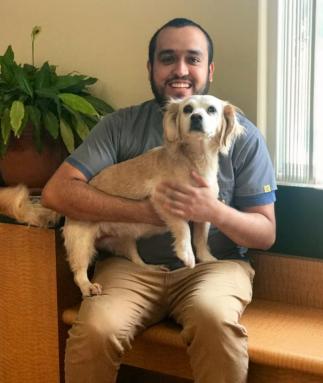 Eric Avila
Veterinary Assistant
Eric is from Lagrange, NC and a graduate of West Stanly High School and Stanly Community College. Eric joined us in 2006 and has become a reliable and hard-working veterinary Assistant. He really enjoys working with all patients and connecting with clients.
Eric has two dogs and enjoys working on photography, watching movies, and attending car shows in his free time.
Sierra Cassells
Veterinary Assistant
Sierra started from a high school internship program and plans to further her education through college to become a Veterinary Technician. She loves animals and has a passion to help them. She enjoys doing different tasks every day and loves that she gets to experience different situations daily.
As a small child, Sierra always had a passion for animals. As she got older, she still had the same desire so she decided to follow that and absolutely loves her job.
She has one brother, her parents, and 4 dogs. In her spare time, she enjoys going to the gym, spending time with her boyfriend, and going on hikes with her dog  Annie. She also enjoys spending her time doing anything outdoors and loves to go shopping.
Felipe Avila
Kennel Manager
Felipe is Freddie and Eric's dad and is originally from Mexico. He is quite the handyman and is our kennel manager. He helps keep our clinic running smoothly and ensuring our patients are taken care of while they stay with us.
In his free time Felipe enjoys spending time with his family and playing soccer.
Amber Helms
Groomer
Amber has been with Albemarle Animal Clinic grooming pets since 2010.
She's always had a love for animals since she was a little girl, and she knew that she wants to grow up to work with animals for a living.
The thing that made her realize that she had chosen the right profession is the end result. The dogs are always so happy after baths and haircuts. It brings her so much joy to see their owner's faces when they pick them up.
Amber's family consists of her husband Brandon and their child. They all live together on her husband's family farm in Locust where they have their dogs, chickens, turkeys, horses & pig!
When they're not taking care of the farm, they're often found traveling the coast and soaking up all the sun, as well as embarking on the occasional boat fishing adventure!
Jennifer Helms
Receptionist
Jennifer is from Albemarle, NC and a West Stanly High School graduate. She is a long-term member of our team and became our receptionist in March of 1988.
Jennifer enjoys helping our clients over the phone and as they walk in the door, as well as seeing all the animals that come through the door. She is a wonderful source of information and helps ensure order in our day-to-day.
Jennifer has one dog, Lola, and enjoys watching movies and traveling in her free time.
Sadie Burris
Receptionist
Sadie is from Albemarle, NC, and a triplet!
She graduated in 2018 from West Stanly High School and started working at Albemarle Animal Clinic in July of 2018. Her love of animals and interacting with people is why Sadie chose to work here.
Sadie's favorite part of the job is seeing all the dogs and cats, and meeting and getting to know their owners. Plus working with some great co-workers!
In her spare time, Sadie loves to spend time with her family, friends and her four dogs, Jax, Chloe, Bella and Mia.